Cooking with lamb hearts is like falling in love. Especially when slow-cooked. The hearts are soft, tender and desirable. Bite after bite, you enjoy and you'll always come back for more. 
Although there are a lot of steps to this recipe, it is easy to prepare.
It basically involves chopping, mixing, a little cooking prep, stuffing and putting the meal altogether into the oven. Once in the oven, it is a set and forget job. 3 hours late, you'll have a "hearty" meal, that's delicious and nutritious.
Hearts are a delicacy that few people eat today. Their taste, however, is very mild unlike liver that can be quite pungent, depending on the animal.
I've cooked a lot with chicken hearts which are also very edible but this was my first experience with lamb hearts.
In Australia, and in many countries, lamb and sheep are free to roam, completely pasture raised. I'm not sure how they escaped being locked up and fed grains like many cows (an unnatural food source for ruminants), but they did. 
So give them a try. They aren't as cheap as chicken hearts but they were no where near the price per kg of rib-eye (for 4 large hearts). 
Ask your butcher as people don't often ask for organ meats unless feeding their animals. If he/she doesn't have them, I'm sure they can easily get them in.
And then, try this recipe!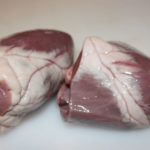 Slow-cooked lamb hearts
Easy, delicious and nutritious.
Ingredients
4

Lamb hearts

4

rashers

bacon
Stuffing
2-4

tbsp

Olive oil

(extra virgin)

1

onion

2

garlic cloves

200

g

ground pork

(use any ground meat you like)

1

sprig

thyme

1

sprig

fresh parsley

1

egg

sea salt

(to taste)
Slow cooker base
1

carrot

1

zucchini

1

onion

1

clove

garlic

1

cup

stock

(vegetable or meat)

sea salt

(to taste)

2-3

tbsp

olive oil

(extra virgin)
Instructions
Preheat the oven to 140 degrees celsius

Cut off the excess fat on the hearts and make sure the cavities are open. This is where the stuffing will go.

Chop the onion and garlic.

Pan fry them on low in some olive oil for around 10 minutes (until nice and soft).

In a bowl, add the ground meat, thyme, parsley, salt, egg and when cool, the onion and garlic. Mix together.

Stuff the stuffing into the open cavities of the hearts.

Wrap each heart in a rasher of bacon and secure with a bamboo stick. Put to the side.

For the slow cooker base, chop all the vegetables and cook them in a pan with some olive oil, salt and stock until they lose their crunchiness.

Put them into the slow cooker.

Brown the hearts in a pan, until the bacon gets a nice colour to it.

Put them on top of the vegetables in the slow cooker, put on the lid and into the oven (or into your electric slow cooker).

Cook on 140 for approximately 3 hours.

Slice the hearts into 2cm slices. Cut them so you can see the stuffing inside them.

Serve with the veggies and enjoy!
Let me know how you go in the comments below
To your satisfied heart,