Jump to Recipe
Boiling an egg is an easy thing to do when you know the right method.
Get your eggs boiled exactly the way you like them, every time!
If you're not eating eggs daily, you should be. These are one of the best low carb, healthy fat foods out there that can be eaten for breakfast, lunch or dinner. The true super-food! One of my favourite ways to eat them is in my egg and bacon cups but recently I saw Maria Emmerich who revealed that she uses boiled eggs to make CHOCOLATE PUDDING!!
What's great about eggs you ask? Let's see what makes them amazing…
Fat soluble vitamins A, D, E and K.
Choline – for healthy cell integrity, a healthy liver uses choline, as do our brains, nervous system and muscles (neurotransmitters) – but you've gotta eat the yolk to get this goodness!
Cholesterol – all our cells are made of cholesterol, plus our hormones, plus without it we can't absorb those vitamins mentioned above!
Omega 3s – we all know these are important, but why? They're anti-inflammatory.
Selenium – eggs are jammed packed with this essential mineral, an important factor in thyroid health (and many people have issues with their thyroid today).
B vitamins, like all of them but especially thiamin, riboflavin, B6, folate, B12 and pantothenic acid. Our cells cannot function without the Bs, we don't have energy without the Bs (think healthy metabolism), they give us healthy vision, all our systems need them from digestion to nervous, to cardiovascular to our brain, they help make DNA, to grow new cells and to make red blood cells. And eggs are a powerhouse of Bs.
The essential amino acids. All of them. Protein galore in the humble egg.
I personally choose duck eggs over chicken. I like how big and creamy the yolks are, whilst having much less white. They also last longer because the shell is really thick. Give them a try if you haven't already :).
Ok, ok, but how do you boil them just the way you like?
I will reveal all now…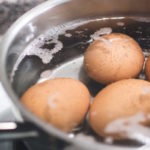 How to boil an egg
Instructions
Taken straight out of the fridge, place eggs in a pot and cover with cold water (about 2.5cm).

Bring the water to a boil.

When boiling, set a timer to make sure you get the type of egg you want.

Times:

At 4 mins, the eggs should be soft-boiled. At 5 mins, the eggs should be medium-cooked. At 6 mins, the eggs should be mostly hard-boiled but still a little soft inside. At 7-8 mins, the eggs should be hard-boiled. You can continue up until 9-10 mins if you want very firm yolks.

Empty the pot and cover with cold water so they stop cooking. Use this water or running water to help you flawlessly peel the shells off without breaking the egg. Alternatively, you can crack it on the bench top and roll the egg to achieve a similar result.
Let me know in the comments below how you like to eat your boiled eggs. (I like mine super runny, cut in half with sea-salt and olive oil. Yum!)
To your meat-fueled health,
FNTP and meat-based biohacker.