Another quick and easy recipe for you today: Blondies.
They're like brownies, only blonde.
And as usual, they're gluten free and dairy free. There's a tiny bit of sugar if you use chocolate but keep it dark and you keep the sugar low.
Ok, let's get to the recipe for these nutty blondies!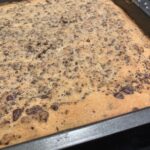 Blondies
Ingredients
1/2

cup

Tahini

(Hulled or unhulled is fine)

1/2

cup

Nut butter of choice

(sugar free, all natural)

4

tbsp

Butter, melted

(salted or unsalted works)

1/4

cup

Coconut cream or milk

(no sugar, no additives)

1/4

cup

Water

(room temperature)

2

large

Eggs

(free range)

2

tsp

Vanilla essence

(alcohol free)

3

tbsp

Coconut flour

1

tsp

Baking powder

1

pinch

Salt

(sea or himalayan)

100

grams

Dark chocolate

(85% or higher)
Instructions
Heat the oven to 180 degrees Celcius.

Mix together all the wet ingredients.

Add all the dry ingredients and mix together.

Chop or crush the chocolate up into tiny chunks. (I have used a rolling pin to break it up but a food processor works too).

Mix in 3/4 the chocolate into the mix.

Line a slice tin with some baking paper and pour the mixture in

Sprinkle the remaining chocolate on top

Bake for around 20 minutes. You can take it out before it goes brown on top to make it really "blonde".
Let me know in the comments below if you try them…
And if you do, let me know blondies or brownies??
To your inner blondie,